Curriculum Overview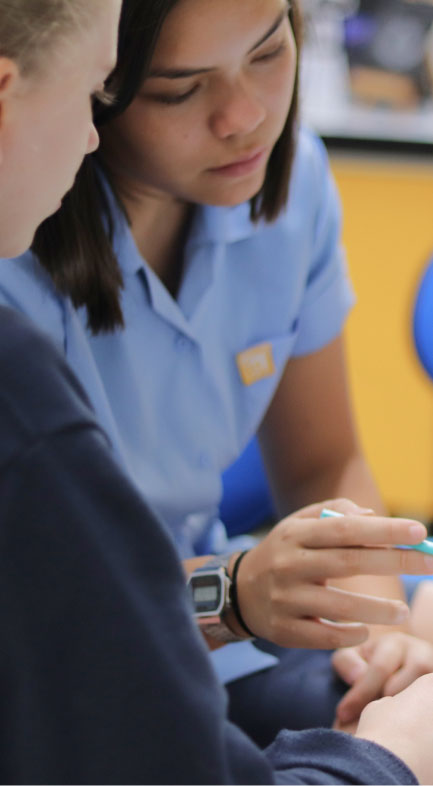 Our Curriculum
BSJ's approach to high-quality learning prioritises the individual student by placing them at the centre of the learning process. Our approach is collaborative, inquiry-based, active, engaging, and dynamic, and aims to develop not only students' knowledge but also their intellectual and emotional skills. We believe that learning should be related to both global and local topics and that it should foster academic progress and emotional wellbeing while aiming to develop the whole child.
BSJ offers a comprehensive curriculum that is accredited by the Council of International Schools (CIS), the Western Association of Schools and Colleges (WASC), the Headmasters' and Headmistresses' Conference (HMC), and the Federation of British International Schools in Asia (FOBISIA). Our Kindergarten curriculum follows the UK Early Years Foundation Stage (EYFS), and Years 1-6 are based on the English National Curriculum (ENC) and an inquiry-based exploratory framework which covers our foundation subjects. In Years 7-11, we offer the International Baccalaureate Middle Years Programme (IB MYP), while Years 12 and 13 have access to the International Baccalaureate Diploma and Career-Related Programmes (IB DP/CP).
Our curriculum is designed to be broad, relevant, balanced, and differentiated. We introduce each student to a wide range of concepts, experiences, knowledge, and skills that promote moral, cultural, academic, aesthetic, and physical development. All subjects contribute to a broad and balanced education that prepares students for opportunities, responsibilities, and experiences of adult life in a rapidly changing world. Each area of the curriculum is allowed sufficient time for its contribution to be effective, and learning is personalised to meet each student's needs, challenging them and developing their abilities and aptitudes.
Our curriculum is designed to provide students with the best educational experience that stands in comparison with the top schools worldwide. By providing a comprehensive and personalised curriculum, we aim to produce happy and responsible citizens of tomorrow who are well-prepared to thrive in the 21st century.
© 2023 - British School Jakarta